Hi Maltheads,
heute begeben wir uns im heutigen White Gloves ins Reich des Blended Malt in Form von Suntory's Flagschiff Hibiki ("Harmonie" auf Japanisch)
Today we enter the realm of blended malt in the form of Suntory's flagship Hibiki ("Harmony" in Japanese) in today's White Gloves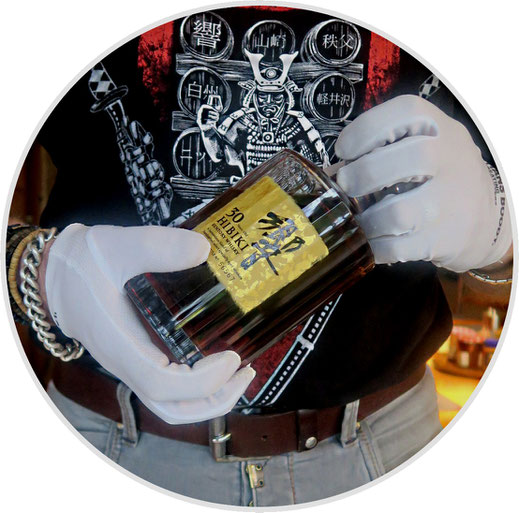 Wir schreiben das Jahr 1987 wo Suntory mit dem damaligen Master Blender Keizo Saji und Chief Blender Koichi Inatomi einen Blended Malt zu entwickeln der die Raffinesse von Suntory's Techniken sowie die reich an japanischer Natur und Handwerkskunst ist.
We are writing the year 1987 where Suntory with the then Master Blender Keizo Saji and Chief Blender Koichi Inatomi to develop a Blended Malt which is the sophistication of Suntory's techniques as well as rich in Japanese nature and craftsmanship.
Zwei Jahre später (1990), nach einer Million gefühlten probierten Fässer mit gealterten Malts fanden die beiden den individuellen Geschmack aus dreissig verschiedenen Whiskyarten und Alters heraus.
Two years later (1990), after a million barrels of aged malts that they felt were tasted, the two of them discovered the individual taste of thirty different whisky types and ages.
Die Erfolgsgeschichte wurde mit der Range eines 12, 17, 21 und 30 Jährigen Blended Malt geschrieben die alle bis heute schon mehrere Auszeichnungen bei der Internation Spirits Challenge sowie der World Whisky Avards gewonnen haben.
The success story was written with the range of a 12, 17, 21 and 30 year old blended malt which all have already won several awards at the International Spirits Challenge and the World Whisky Avards.
Auch über die Gestaltung des Glasdekanters, das Etikett und die Farbe Violett; Inbegriff der japanischen Natur und ihrer künstlerischen Sensibilität wurden sich Gedanken gemacht. Die elegante, rundum facettierte Dekanterflasche symbolisiert die Zeit in Bezug auf Hibiki.
The design of the glass decorator, the label and the colour violet - the epitome of Japanese nature and its artistic sensibility - were also considered. The elegant, all-round facetted decanter bottle symbolises time in relation to Hibiki.
Jedes Element des sorgfältig handgefertigten Labels spiegelt die japanische Ästhetik wieder. Der Hals der Flasche wird von einem Band aus tiefem Violett umgeben - Japans edelste Farbe. Handwerker widmen sich der Vermittlung der japanischen Tradition an heutige und zukünftige Generationen.
Each element of the carefully handcrafted label reflects Japanese aesthetics. The neck of the bottle is surrounded by a ribbon of deep purple - Japan's finest colour. Craftsmen dedicate themselves to the transmission of Japanese tradition to present and future generations.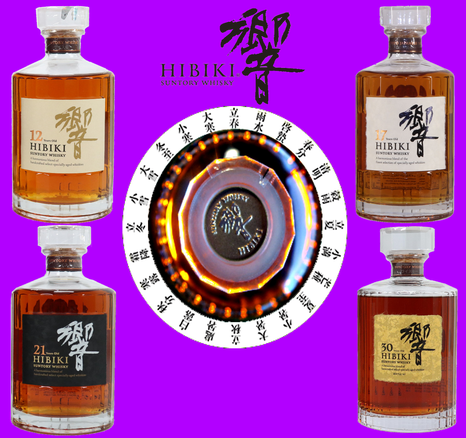 Gründer Sinjiro Torii sagte schon damals was es ausmacht ein Master Blender zu sein: "Man muss in der Lage sein, mit Whiskys zu kommunizieren, die nicht sprechen können." Und so ist es bis heute noch, denn jeder Master Blender verkostet täglich über 300 Whisky-Proben und hat das letzte Wort über die subtilen, raffinierten und komplexen Aromen des Suntory-Whiskys.
Founder Sinjiro Torii said what it takes to be a master blender back then: "You have to be able to communicate with whiskies that can't talk". And it still is, because every Master Blender tastes over 300 samples of whisky a day and has the final say about the subtle, refined and complex aromas of the Suntory whisky.
Und durch diese Philosophie ist die Marke Hibiki zu einer der beliebtesten Blended Malt Whisky der Welt geworden denn sie werden aus den besten Single Malts der Yamazaki und Hakushu Destillerien hergestellt sowie aus Grain Whisky der Destillerie Chita, die allesamt in verschiedenen Fässern lagerten.
And this philosophy has made the Hibiki brand one of the most popular blended malt whisky in the world, made from the best single malts from Yamazaki and Hakushu distilleries and Grain Whisky from Chita distillery, all stored in different barrels.
 Aber zurück zu den Key Facts der Hibiki 30 Years Blended Malt
Distillery: Suntory
Categorie: Blended Malt

Series: 30 Years

Vintage: -----
Bottled: -----

Bottled for: Hibiki
Cask-Nummer: ---
Typ: Yamazaki, Hakushu, Chita

Number of Bottles: Limited Edition

Uncolored: No
Non-Chillfiltered : No
Strength: 43,0% Vol.
Size: 700 ml
Herkunft: Japan
Tasting Notes / Verkostungsnotiz:
Geschmack: Nase: Rosinen, Feigen, reife Datteln, Paranüsse, dunkler Kakao, Marzipan, Orangenmarmelade, Muskatnuss, Aprikosen und      Quittenmarmelade, Ingwer, Wacholderbeeren, Safran
Gaumen: Marshmallows, Kaugummi, Muskatnuss Aromen,
Finish: Sehr lang, dunkel, reich, holzig, würzig, Wasabi Senf
Nose: raisins, figs, ripe dates, Brazil nuts, dark cocoa, marzipan, orange jam, nutmeg, apricot and quince jam, ginger, juniper berries, saffron
Palate: Marshmallows, chewing gum, nutmeg flavors
Finish: very long, dark, rich, woody, spicy, wasabi mustard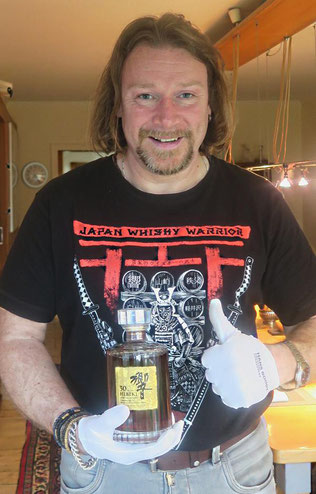 So, das war es mal wieder von mir und Hibiki werde ich auch noch einen eigenen Index widmen. Alle Hibiki's die ich schon geniessen durfte sind fantastisch ausgewogen. Zusätzlich trinkt das Auge ja bekanntlich mit und deshalb vergebe ich auch 5 Sterne für das Flaschendesign.

So, that was it again from me and Hibiki I will dedicate also still another own index. All the Hibiki's I already enjoyed are fantastically balanced. In addition, the eye also drinks, as you know, and therefore I also award 5 stars for the bottle design.
Ob es nächsten Sonntag einen White Glove Blog gibt wird sich zeigen, denn nächste Wochenende bin ich in Hannover auf der Weltfine Messe bei der es nicht nur um Whisky sondern um Genuss allgemein geht.

Whether there will be a White Glove Blog next Sunday will be seen, because next weekend I will be in Hanover at the Weltfine fair where it is not only about whisky but about pleasure in general.
In diesem Sinne / With this in mind
Kanpai
Yabejojo