Hi Maltheads,
it's time to introduce a small 20 year old Hanyu series with 3 different bottle shapes. Whereby the square bottle actually does not belong at all to it it has with 46.0% vol. no barrel strength and was with 720ml truly only available in Asia.
Hi Maltheads,
es ist mal an der Zeit eine kleine 20 jährige Hanyu Serie vorzustellen von der es 3 verschiedene Flaschenformen gab. Wobei die quatratische Flasche eigentlich gar nicht dazugehört den sie hat mit 46,0% Vol. keine Fassstärke und war mit 720ml wahrscheinlich nur im Asiatischen Raum erhältlich.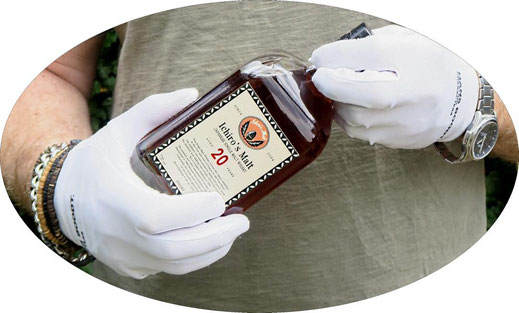 But since only 139 bottles from the year 2004 are filled and are a wonderful eye-catcher in every collection, it is highly coveted by collectors and I am happy to hold one of them in my hands.
Da aber nur 139 Flaschen aus dem Jahr 2004 abgefüllt und optisch in jeder Sammlung ein wunderbare Eyecatcher darstellt, ist sie bei Sammlern schwer begehrt und ich bin froh eine davon in meinen Händen halten zu dürfen.
The other two are the Cask Strength series with two different bottle shapes and different filling dates. The stocky bottles from the bottling date 2009 with a circulation of 663 bottles as well as the elongated bottle shape from the bottling year 2011 with an unfortunately unknown bottle circulation.
Bei den anderen beiden handelt sich um die Cask Strength Serie die zwei verschiedene Flaschenformen und verschiedene Abfülldaten aufweisen. Die gedrungene Flaschen aus dem Abfülldatum 2009 mit einer Auflage von 663 Flaschen sowie die längliche Flaschenform aus dem Abfülljahr 2011 mit einer mit leider nicht bekannten Flaschenauflage.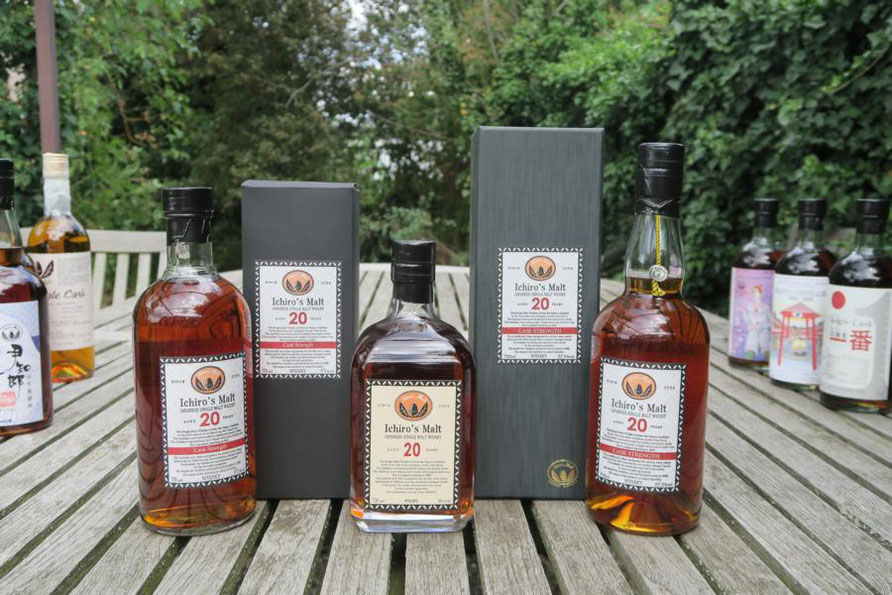 I assume that in the latter two the same barrel was used because the ABV of both bottles is 57.6%. For my part I can only advise everyone who Hanyu begins to collect not only the attention to the Hanyu Card series throw but also to pay attention to such bottles because there you can still get the one or other "bargain".
Ich gehe einmal davon aus das in den beiden letztgenannten das gleiche Fass zum Einsatz kam da die ABV bei beiden Flaschen bei 57,6% liegt. Ich für meinen Teil kann jedem nur raten, der Hanyu anfängt zu sammeln nicht nur das Augenmerk auf die Hanyu Card Serie werfen sondern auch auf solche Flaschen zu achten denn da kann man das ein oder andere "Schnäppchen" noch ergattern.
But back to the key facts of the three 20 year old Hanyu bottles / Aber zurück zu den Key Facts der drei 20 jährigen Hanyu Flaschen

Distillery: Hanyu
Categorie: Single Malt

Series: Ichiro's Malt

Vintage: 1984
Bottled: 2004

Bottled for: Distillery Bottling

Cask-Nummer: ****
Number of Bottles: 139

Uncolored: ?
Non-Chillfiltered : ?
Strength: 46,0% Vol.
Size: 720 ml
Herkunft: Japan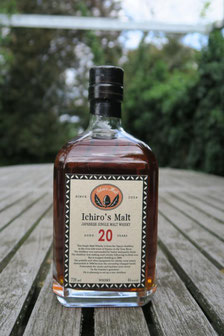 Distillery: Hanyu
Categorie: Single Malt

Series: Ichiro's Malt / 2nd Bottling

Vintage: 1989
Bottled: 2009

Bottled for: Distillery Bottling

Cask-Nummer: ****
Number of Bottles: 663

Uncolored: ?
Non-Chillfiltered : ?
Strength: 57,5% Vol.
Size: 700 ml
Herkunft: Japan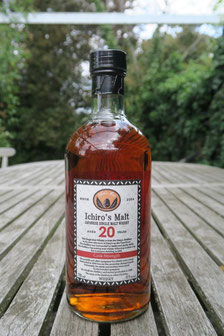 Distillery: Hanyu
Categorie: Single Malt

Series: Ichiro's Malt / 3rd Bottling

Vintage: 1991
Bottled: 2011

Bottled for: Distillery Bottling

Cask-Nummer: ****
Number of Bottles: ?

Uncolored: ?
Non-Chillfiltered : ?
Strength: 57,5% Vol.
Size: 700 ml
Herkunft: Japan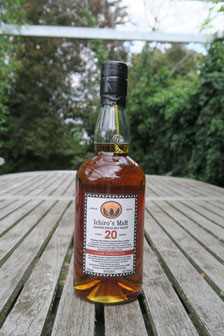 Tasting Notes / Verkostungsnotiz by Serge from Whiskyfun.com:
Colour: pale amber. Nose: big and extremely varnishy! Hot cellulose, nail polish remover, marzipan, thuya wood, new leather and overripe apples. Extremely extreme, so to speak. Let's see what happens with water. With water: the varnishy notes transform into a big meatiness. Game, ham, then huge notes of sage and even more thuya wood. Soy sauce. What kind of casks did they use for this one? Mouth (neat): sweet yet firm attack, with loads of spices from the cask and a pleasant fruitiness in the background (green apples, kiwis). A lot of ginger, weiss beer, marzipan… The oakiness is huge, you have to like that to enjoy this baby. With water: now it got quite superb, much more drinkable (at +/-45%), beautifully herbal and leathery, smokier. Maybe I'm dreaming but I do get notes of lapsang soochong tea. Finish: long, smoky/herbal, with a return on leather and cardamom. Comments: again, this one is rather extreme but it'll keep you entertained for a long time – provided you have water at hand. Id does have something of some old bourbons.
Farbe: blasser Bernstein. Nasenschwamm: groß und extrem lackartig! Heißer Zellstoff, Nagellackentferner, Marzipan, Thuyaholz, neues Leder und überreife Äpfel. Extrem extrem, sozusagen. Mal sehen, was mit Wasser passiert. Mit Wasser: Die lackartigen Noten verwandeln sich in eine große Fleischigkeit. Wild, Schinken, dann riesige Noten von Salbei und noch mehr Thuya-Holz. Sojasauce. Welche Art von Fässern haben sie für dieses Fass verwendet? Geschmack (ordentlich): süßer, aber fester Auftakt, mit viel Gewürzen aus dem Fass und einer angenehmen Fruchtigkeit im Hintergrund (grüne Äpfel, Kiwis). Viel Ingwer, Weißbier, Marzipan.... Die Eiche ist riesig, das muss man mögen, um dieses Baby zu genießen. Mit Wasser: jetzt ist es ganz toll geworden, viel trinkbarer (bei +/-45%), schön pflanzlich und ledrig, rauchiger. Vielleicht träume ich, aber ich bekomme Notizen von Lapsang Soochong Tee. Finish: lang, rauchig/pflanzlich, mit einer Rückkehr zu Leder und Kardamom. Kommentare: Auch hier ist es ziemlich extrem, aber es wird dich lange unterhalten - vorausgesetzt, du hast Wasser zur Hand. Die Id hat etwas von ein paar alten Bourbonen.
So, that was it again from me and that was now the beginning of some beautiful Hanyu bottles. So I'm curious to see what will be next on my White Gloves Blog.

So, das war es mal wieder von mir und das war jetzt der Anfang von einigen schönen Hanyu Flaschen. Seit also gespannt was als nächstes in meinem White Gloves Blog näher begutachtet wird.
I look forward to the next half year and see what rapid development or a crash of bottles and distilleries will have. With a distillery I would almost bet that there will be a big price drop but I will not name them here but most will be clear what I mean.

Ich freue mich auf das nächste halbe Jahr und mal schauen welche rasante Entwicklung oder einen Absturz von Flaschen und Destillen haben werden. Bei einer Destille würde ich fast darauf wetten das da ein großer Preisverfall ansteht aber die werde ich jetzzt hier nicht nennen aber den meisten wird klar sein welche ich meine.
So be curious!!!
In diesem Sinne / With this in mind
Kanpai
Yabejojo
P.S. I like to buy exciting single bottles as well as whole whisky collections. Collections of Scottish or other bottles are also very welcome. Simply send me a list by mail or with a personal message via Facebook.
P.S. Ich kaufe gerne spannende Einzelflaschen sowie auch ganze Whiskysammlungen auf. Auch Sammlungen von Schottischen oder anderen sind sehr willkommen. Einfach Liste per Mail oder mit einer persönlichen Nachricht über Facebook zuschicken.