---
The Ghost Series - Hanyu Cask #1702 - The Bottle Story Part 3 of 14
---
.....what did the Japanese artist Yoshitoshi, who lived and worked in the middle of the 19th century, do
with a special line of whiskey. All labels feature Yukiyo-e artwork from Yoshitoshi's New Forms of 36 Ghosts and thus he was the inspiration for the Ghost Labels on the whisky bottles, the Ghost Whisky series created by Stefan van Eycken.
.....was hat der japanische Künstler Yoshitoshi der in der Mitte des 19. Jahrhundert gewirkt und gelebt hat
mit eine speziellen Whiskyserie zu tun. Auf allen Etiketten sind Yukiyo-e-Artworks aus Yoshitoshis New Forms of 36 Ghosts abgebildet und dadurch  er war der Vorlagengeber der Ghost Labels auf den Whiskyflaschen, die von Stefan van Eycken ins Leben gerufenen Ghost Whisky Serie.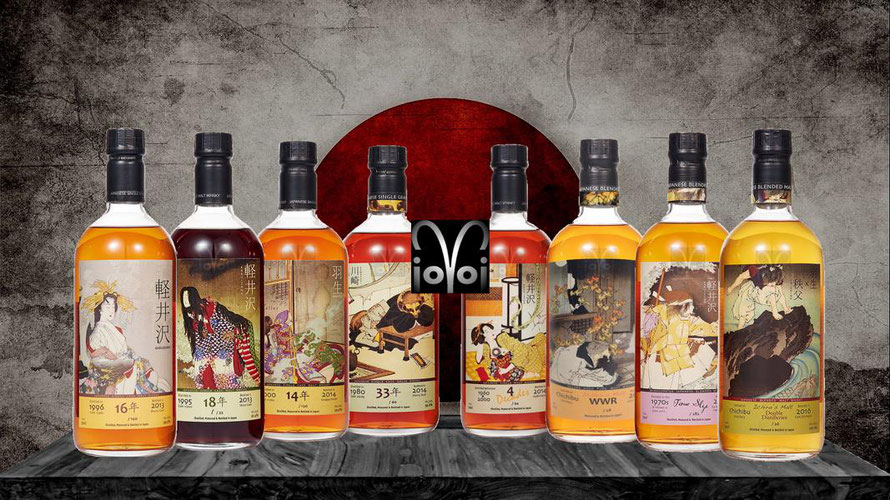 While I am writing these lines, Ghost No.14 has just been released. But since the artist Yoshitoshi has created 36 of these Ghost labels in an elaborate, technically challenging woodblock print, we can still look forward to some exciting whisky releases.
Während ich diese Zeilen schreibe ist gerade die Ghost No.14 erschienen. Da der Künstler Yoshitoshi aber 36 dieser Ghost Labels im aufwendigen, technisch ansruchsvollen Holzschnitt gefertigt hat, können wir uns ja noch auf einige spannende Whisky Veröffentlichungen  erfreuen.
And the initiator of the Ghost series, Mr. van Eycken is no stranger to the whisky scene, he is/was chief editor of the Japanese whisky website Nonjatta, writes for the online whisky magazine, but with his book Whisky Rising (2017) he has set a milestone in the newer whisky scene.
Japanese whisky development, which probably everyone who is interested in Japanese whisky
as a reference book.
Und der Initiator der Ghost Serie, Mr. van Eycken ist in der Whiskyszene auch kein  Unbekannter, Er ist/war Chef-Redakteur bei der japanischen Whisky Website Nonjatta, schreibt für das Online - Whisky Magazine , aber spätestens mit seinem Buch Whisky Rising (2017) hat er einen Meilenstein der neueren
japanischen Whiskyentwicklung dokumentiert, die wohl jeder, der sich japanischen Whisky interessiert
als Nachschlagewerk nutzt.
He himself describes in his book that there are some aspects that make this series special. First of all it would show the fast side of Japanese whisky history.  But at the same time it would also show the versatility that in one way or another makes all these releases something unusual or unique.
Er selbst beschreibt in seinem Buch das es einige Aspekte gibt, die diese Serie zu etwas Besonderem macht. Zunächst einmal würde  sie die schnelle Seite der japanischen Whisky-Geschichte zeigen.  Gleichzeitig aber auch die Vielseitigkeit die auf die eine oder andere Weise alle diese Veröffentlichungen zu etwas ungewöhnlichen  oder einzigartigen machen.  
Ghost Series No.3
Hanyu Cask #1702
Distillery: Hanyu

Categorie: Single Cask Whisky

Series: The Ghost Series No.3

Vintage: 2000
Bottled: 2014
Bottled for: Nonjatta

Cask-Typ: Grappa finish

Cask-Nummer: #1702

Number of Bottles: 120 Bottles
Uncolored: Yes
Non-Chillfiltered : Yes
Strength: 59,9% Vol.
Size: 700 ml
Origin: Japan
Original excerpt from Whisky Rising:
The third release was a Hanyu, and only instance until further notice of a Japanese whisky finished in a ex-grappa cask.

Die dritte Veröffentlichung war ein Hanyu, und bis auf weiteres die einzige Instanz eines japanischen Whiskys, der in einem Ex-Grappa-Fass endete.

Tastingnotes:
Instead of tasting notes of this unusual Hanyu's with Grappa Cask finish, the small interesting story of the origin of the unusual marriage.
Anstelle von Tasting Notes dieses ungewöhnlichen Hanyu's mit Grappa Cask finish, die kleine interessante Geschichte der Entstehung der ungewöhnlichen Vermählung
The transparent cask (see foto) is built from the edges of an old Suntory Owner's Cask, but behind the glass is another Japanese whisky, one that has a little history. The owner and bartender Minoru Nishida also runs Bar K6 - which is located on the second floor of the same building - and the Cask liquor store - which used to be on the first floor next to the current Bar Keller. Mr. Nishida has selected some exceptional whiskies for his bar/shop over the years, but he also has a soft spot for grappa. Five years ago he got his hands on a 500-liter bottle of grappa from the 1990 vintage, distilled by Paolo Berta. At that time he got his hands on a 500-litre bottle of grappa from the 1990 vintage, distilled by Paolo Berta. He bottled it for his shop and gave the empty barrel to Ichiro Akuto, who put 2000 Hanyu in it. So the whisky in the transparent cask at Bar Keller is something of a coup: a Hanyu finished with grappa! The 1990 grappa that Mr. Nishida selected has a very distinctive teeny note (think Earl Grey), and the cask has clearly given this to the Hanyu whisky. The result is quite astonishing: a hyper-scented but wonderfully balanced Hanyu, unlike any other we have tried over the years. And so this Hanyu became the Ghost No.3
Text & transparent Cask Foto from nonjatta.blogspot.com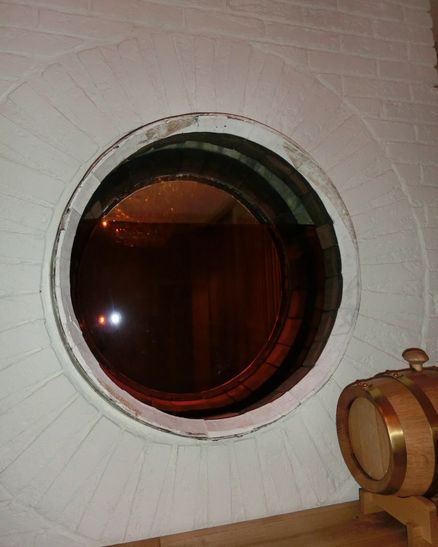 The transparent cask in the former Bar Keller
Das transparente Fass in der damaligen Bar Keller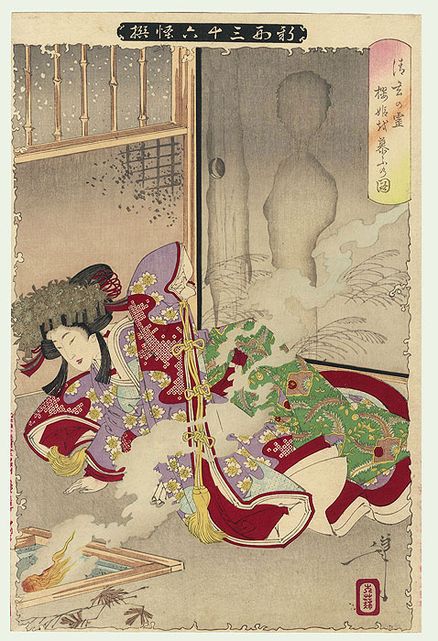 Das durchsichtige Fass (siehe Foto) ist aus den Rändern eines alten Suntory Owner's Cask gebaut, aber hinter dem Glas befindet sich ein anderer japanischer Whisky, einer, der eine kleine Geschichte hat. Der Besitzer und Barkeeper Minoru Nishida betreibt auch die Bar K6 - die sich im zweiten Stock desselben Gebäudes befindet - und das Spirituosengeschäft Kask - das sich früher im ersten Stock neben der heutigen Bar Keller befand. Mr. Nishida hat im Laufe der Jahre einige außergewöhnliche Whiskys für seine Bar/seinen Laden ausgewählt, aber er hat auch ein Faible für Grappa. Vor fünf Jahren bekam er eine 500-Liter-Flasche Grappa aus dem Jahrgang 1990 in die Hände, die von Paolo Berta destilliert wurde. Damals bekam er eine 500-Liter-Flasche Grappa aus dem Jahrgang 1990 in die Hände, die von Paolo Berta destilliert wurde. Er füllte sie für seinen Laden ab und gab das leere Fass Ichiro Akuto, der 2000 Hanyu hineintat. Der Whisky in dem transparenten Fass bei Bar Keller ist also so etwas wie ein Coup: ein mit Grappa vollendeter Hanyu! Der Grappa von 1990, den Mr. Nishida auswählte, zeichnet sich durch eine sehr markante Teenote aus (denken Sie an Earl Grey), und das Fass hat dies dem Hanyu-Whisky eindeutig verliehen.

Das Ergebnis ist ziemlich verblüffend: ein hyperduftender, aber wunderbar ausgewogener Hanyu, anders als alle anderen, die wir im Laufe der Jahre ausprobiert haben. Und so wurde dieser Hanyu die Ghost No.3.