---
Chichibu / Ichiro's Malt - Vintage 2008
Chichibu 2008  American Bourbon Barrel - Single Cask #164 for JBA Bar Tokyo
---
Distillery: Chichibu
Categorie: Single Cask
Series: Japanese Single Malt Cask Sample

Vintage: 10.2008
Bottled: 11.2018
Bottled for: Distillery Bottling Casksample

Cask-Nummer: #164

Cask-Typ: Bourbon Barrel

Number of Bottles: 168 Bottles
Uncolored: Yes
Non-Chillfiltered : Yes
Strength: 63,1% Vol.
Size: 700 ml

Orgin: Japan
If Mr. Ichiro Akuto in 2008 had known what would happen to his whisky creations 10 years later, he probably would have done a lot of things differently.
Wenn Mr. Ichiro Akuto im Jahr 2008  gewußt hätte was 10 Jahre später mit seinen Whisky Kreationen so passiert, hätte er wahrscheinlich vieles anders gemacht.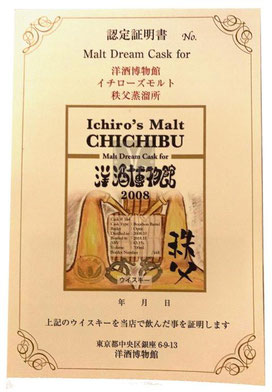 But whether he would have become so successful is another matter.
Aber ob er dann auch so erfolgreich geworden wäre steht auf einem anderen Blatt.
If you consider that 10 years ago in Japan the whisky market was still in a slump and Mr. Akuto failed with his plan at the banks and didn't get any credits for his whisky dream he had to sell a big part of the first 200 barrels to private investors in advance to be able to continue.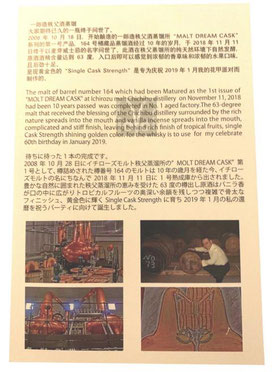 Wenn man bedenkt das vor 10 Jahren in Japan der Whiskymarkt noch brachlag und Mr. Akuto mit seinem Vorhaben bei den Banken scheiterte und keine Kredite für seinen Whiskytraum bekam musste er um überhaupt weitermachen zu können einen großen Teil der ersten 200 Fässer privaten Geldgebern vorab verkaufen.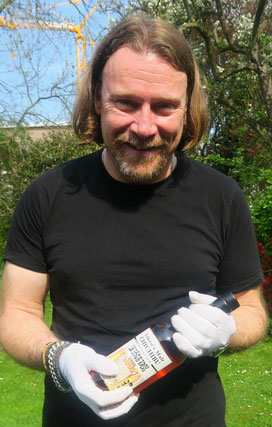 And that's why we chichibu lovers have the situation today that so many different bottlings for different occasions or companies come on the market and Mr. Akuto has little influence on them because they don't belong to him anymore.
Und deshalb haben wir Chichibu Liebhaber die heutige Situation das so viele verschiedene Abfüllungen zu den verschiedensten Anlässen oder Unternehmen auf den Markt kommen auf die Mr. Akuto wenig Einfluss hat da sie ihm ja nicht mehr gehören.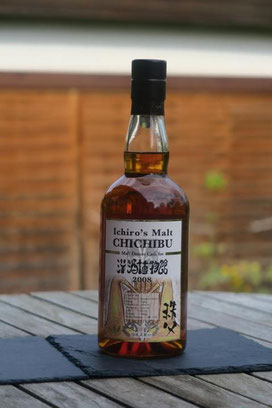 And so I am writing today about a special bottle. It is the already highly sought-after Malt Dream Cask for the JBA Bar in Tokyo. The special thing is that this Chichibu Bourbon Barrel - Cask #164 with 63,1 % Vol. ABV and a circulation of 168 bottles is the first 10 year old whisky from the house of Chichibu / Ichiro's Malt Distillery.
Furthermore, according to my information, it was only published for sale in the JBA and therefore no whole bottles were put on the market.
Unfortunately or fortunately (also for me) a few of them made it into collectors' hands and are now already one of the most expensive chichibu on the market.
Und so schreibe ich heute über eine besondere Flasche. Es handelt sich um die jetzt schon sehr begehrte Malt Dream Cask Abfüllung für die JBA Bar in Tokyo. Das besondere ist daran das dieser Chichibu Bourbon Barrel - Cask #164 mit 63,1 % Vol. ABV und einer Auflage von 168 Flaschen der erste 10 Jährige Whisky aus dem Hause der Chichibu / Ichiro's Malt Destillerie ist.
Außerdem wurde sie meiner Information nur für den Ausschank in der JBA veröffentlicht und damit keine ganzen Flaschen auf den Markt kommen.
Leider oder auch zum Glück (auch für mich) schafften es doch ein paar wenige in Sammlerhände zu gelangen und ist dadurch jetzt schon eine der teuersten gehandelten Chichibu.