---
Chichibu / Ichiro's Malt - Vintage 2008
Chichibu 2008 - TMC - The Chichibu Malt 10 Years
---
Distillery: Chichibu
Categorie: Japanese Single Malt Whisky

Series: TMC 10 Years - The Malt Chichibu

Vintage: 2008
Bottled: 2019
Bottled for: Tamori Malt Club                           10th Anniversary

Cask Number: #****
Cask-Typ: Bourbon Barrel

Number of Bottles: 164 Bottles
Uncolored: Yes
Non-Chillfiltered : Yes
Strength: 59,5% Vol.
Size: 700 ml

Orgin: Japan
Tastingnotes:
As the back label of this rather mysterious bottle reminds us, 2008 was Chichibu's very first year.
Colour: gold.
Nose: what we love in a fairly young malt whisky, that it to say barley, brioche dough, porridge, custard, very fresh baguette and a touch of cappuccino, all that in perfect sync.
We do not need more, adding flavours from the outside would only be… superfluous in this case. With water: touches of tiny herbs, white asparagus (they have arrived!) broken branches, some fresh earth, a little humus…
Mouth (neat): pungent at this strength, a tad buttery (not butyric), with some freshish oak that the humble taster still needs to tame… with water, I guess.
With water: indeed. Lovely citrusy/herbal combination now, I cannot not think of Japanese green tea – but sadly, I do not know much about those.
Have to do my homework!
Finish: long, fresh, clean, on barley, citrons and muesli. Touches of orange peel in the aftertaste
Notes by Serge from whiskyfun.com
Wie das Rückenetikett dieser ziemlich mysteriösen Flasche uns daran erinnert, war 2008 das allererste Jahr in Chichibu.
Farbe: Gold.
Nase: das, was wir an einem ziemlich jungen Malt Whisky lieben, nämlich Gerste, Brioche-Teig, Brei, Vanillepudding, sehr frisches Baguette und einen Hauch von Cappuccino, all das im perfekten Einklang.
Mehr brauchen wir nicht, das Hinzufügen von Aromen von außen wäre in diesem Fall nur... überflüssig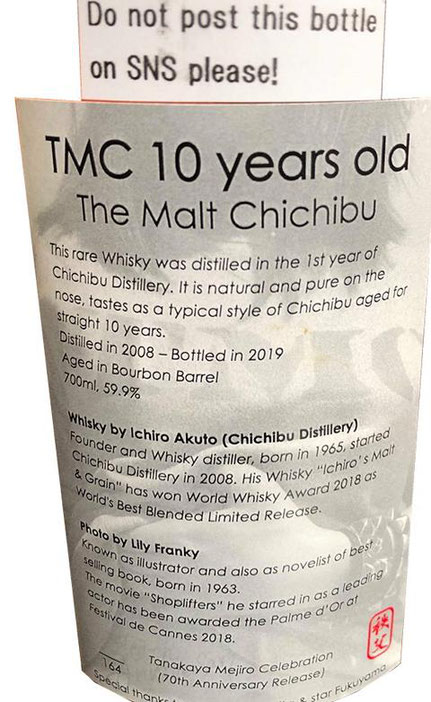 The legendary label of the bottle from the back (see the sticker with the indication of not to spread on social media
Das sagenumwobene Label der Flasche von hinten (man siehe auf den Aufkleber mit dem Hinweis es nicht auf sozialen Medien zu verbreiten
Ohne Wasser: ein Hauch von winzigen Kräutern, weißer Spargel (sie sind angekommen!), abgebrochene Zweige, etwas frische Erde, etwas Humus... Mund (sauber): scharf bei dieser Stärke, ein wenig buttrig (nicht butyrisch), mit etwas frischer Eiche, die der bescheidene Verkoster noch zähmen muss... mit Wasser, denke ich.
Mit Wasser: in der Tat. Eine herrliche Kombination aus Zitrusfrüchten und Kräutern.
Ich kann mir japanische Grüntees nicht ausdenken - aber leider kenne ich mich damit nicht besonders gut aus.
Ich muss meine Hausaufgaben machen!
Abgang: lang, frisch, sauber, auf Gerste, Zitronen und Müsli. Spuren von Orangenschale im Nachgeschmack