---
Chichibu / Ichiro's Malt - Vintage 2013
Chichibu 2013 -  #2933 - Le Carneval
---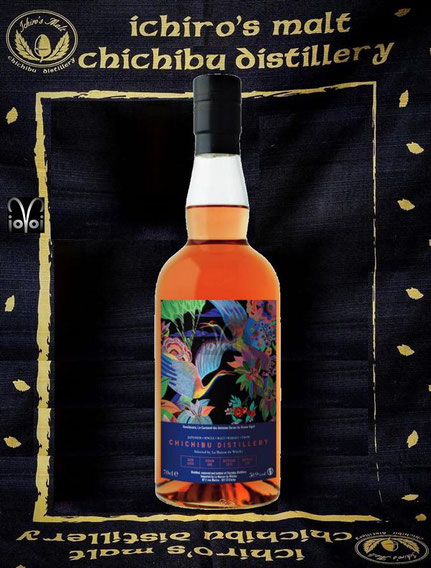 Distillery: Chichibu
Categorie: Japanese Single Malt Cask

Series: Le Carneval des Animaux by Orane Sigal

Vintage: 2013
Bottled: 2020
Bottled for: La Maison Du Whisky

Cask Number: #2933
Cask-Typ: Virgin American White Oak

Number of Bottles: 212 Bottles
Uncolored: Yes
Non-Chillfiltered : Yes
Strength: 50,9% Vol.
Size: 700 ml

Orgin: Japan
Tasting Notes
NOSE:
Both lively and rich. On the first nose, absolutely sublime varnish flavours take up the entire aromatic palette. Allowed to breathe, the nose develops wonderfully elegant oak notes. Particularly exotic (mango, guava), it also brings to mind a slightly burnt apricot tart. Gradually, spices (clove, pink peppercorn) bring lots of heat. Its medicinal character then develops (tiger balm, mustard poultice) as salted butter caramel covers the taste buds.
PALATE:
Distinguished, slender. The extremely fruity attack (orange, Mirabelle plum, pear, pippin apple) reveals a very delicate mouthfeel. On the mid-palate, heady florals (violet, lavender, heather) bring in their wake whole pots of delicious honeys. The mineral (schist) end of the palate invites us to explore rocky trekking paths covered in broom.
OVERALL:
Long, confident. Flirting with the world of sweets (maize notes), the start of the finish is a compendium of spices ground into powder, each more noble than the next (ginger, cinnamon, cardamom). Increasingly rich, it wavers between succulent chocolate cake, marmalade and apricot jam. On the retro-nasal olfaction, red fruits (retro-nasal olfaction, strawberry) and blood orange create a beautiful palette of bright colours. The empty glass is balsamic (cedar, Oregan pine, walnut) and tertiary (pine resin, chestnut, hazelnut).
---
NASE:


Sowohl lebendig als auch reich. In der ersten Nase nehmen absolut sublime Lackaromen die gesamte aromatische Palette ein. Aufatmend entwickelt die Nase wunderbar elegante Eichennoten. Besonders exotisch (Mango, Guave), erinnert er auch an eine leicht gebrannte Aprikosentorte. Nach und nach bringen Gewürze (Gewürznelke, rosa Pfeffer) viel Wärme. Sein medizinischer Charakter entwickelt sich dann (Tigerbalsam, Senfpackung), wenn gesalzenes Butterkaramell die Geschmacksknospen bedeckt.
GAUMEN:


Distinguiert, schlank. Der extrem fruchtige Auftakt (Orange, Mirabellen, Birne, Pippinapfel) offenbart ein sehr zartes Mundgefühl. Auf der Mitte des Gaumenspiegels ziehen berauschende Blüten (Veilchen, Lavendel, Heidekraut) ganze Töpfe mit köstlichem Honig nach. Das mineralische (schieferartige) Ende des Gaumens lädt uns ein, felsige, mit Ginster bewachsene Trekkingpfade zu erkunden.
ABGANG:


Lang, selbstbewusst. Mit der Welt der Süßigkeiten (Maisnoten) flirtend, ist der Anfang des Finales ein Kompendium von zu Pulver gemahlenen Gewürzen, eines edler als das andere (Ingwer, Zimt, Kardamom). Er wird immer reichhaltiger und schwankt zwischen saftigem Schokoladenkuchen, Marmelade und Aprikosenmarmelade. Beim Retro-Nasengeschmack bilden rote Früchte (Retro-Nasengeschmack, Erdbeere) und Blutorange eine schöne Palette von leuchtenden Farben. Das leere Glas ist balsamisch (Zeder, Oregan-Kiefer, Walnuss) und tertiär (Kiefernharz, Kastanie, Haselnuss).