---
Hibiki Range
Hibiki 21 Years
---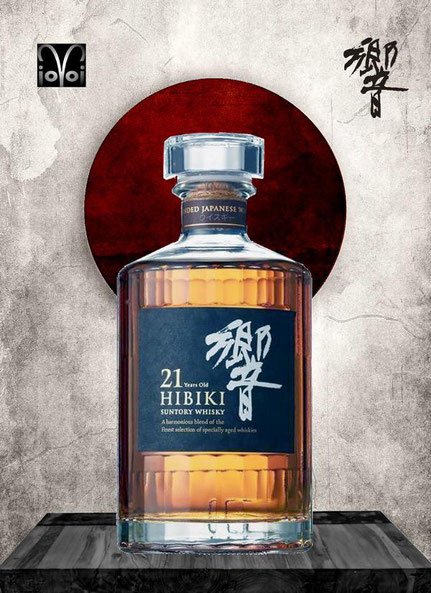 Distillery: Suntory
Categorie: Blended Japanese Whisky

Series: 21 Years

Vintage:

Bottled:

Bottled for: Distillery Bottling

Cask Number: #
Cask-Typ: 
Number of Bottles:

Uncolored: Yes
Non-Chillfiltered : Yes
Strength: 43,0% Vol.
Size: 700 ml

Orgin: Japan
Decorated with an incredible 96 out of 100 points in Jim Murray's Whisky Bible 2014. "Unbelievably balanced, and dangerously drinkable" it says, and anyone who has had the drop in their glass will find it hard to disagree. Probably one of the most sophisticated blended whiskies of all time, made up of 30 different single malt and single grain whiskies, all of which were allowed to mature for at least 21 years in Japan.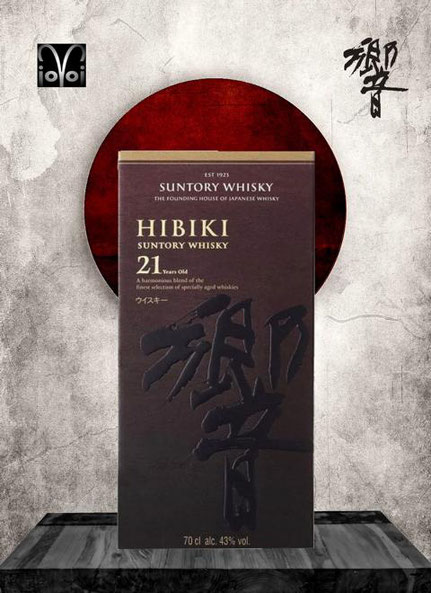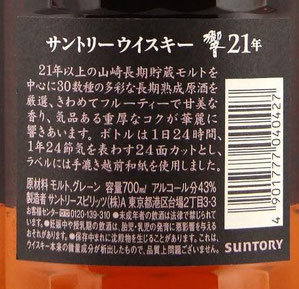 Mit unglaublichen 96 von 100 Punkten in Jim Murrays Whiskybibel 2014 dekoriert. "Unbelievably balanced, and dangerously drinkable" steht es geschrieben und wer den Tropfen einmal im Glas hatte, wird dem schwerlich widersprechen können. Vermutlich eines der raffiniertesten Blended Whiskys aller Zeiten, der sich aus 30 verschiedenen Single Malt und Single Grain Whiskys zusammensetzt, die in Japan alle mindestens 21 Jahre reifen durften.
Tasting Notes
Nose: caramelised nuts, blackcurrants paired with vanilla, sherry and plum aromas.
Taste: dark fruits, heavy sweet sherry and caramel flavours. Spiciness of wood and a hint of delicate smoke.
Finish: very soft and buttery, wood and walnut notes, surrounded by light smoke. Extremely long, elegant finish.
Verkostungsnotiz
Nase: karamellisierte Nüsse, schwarze Johannisbeeren gepaart mit Vanille, Sherry und Pflaumenaromen
Geschmack: dunkle Früchte, schwere süße Sherry- und Karamellaromen. Würzigkeit von Holz und ein Hauch zarter Rauch.
Abgang: ganz weich und buttrig, Holz-und Wallnuss-Noten, umspielt von leichtem Rauch. Extrem langer, eleganter Abgang.