---
The Ghost Series - The Bottle Story Part 6 of 14
---
.....what did the Japanese artist Yoshitoshi, who lived and worked in the middle of the 19th century, do
with a special line of whiskey. All labels feature Yukiyo-e artwork from Yoshitoshi's New Forms of 36 Ghosts and thus he was the inspiration for the Ghost Labels on the whisky bottles, the Ghost Whisky series created by Stefan van Eycken.
.....was hat der japanische Künstler Yoshitoshi der in der Mitte des 19. Jahrhundert gewirkt und gelebt hat
mit eine speziellen Whiskyserie zu tun. Auf allen Etiketten sind Yukiyo-e-Artworks aus Yoshitoshis New Forms of 36 Ghosts abgebildet und dadurch  er war der Vorlagengeber der Ghost Labels auf den Whiskyflaschen, die von Stefan van Eycken ins Leben gerufenen Ghost Whisky Serie.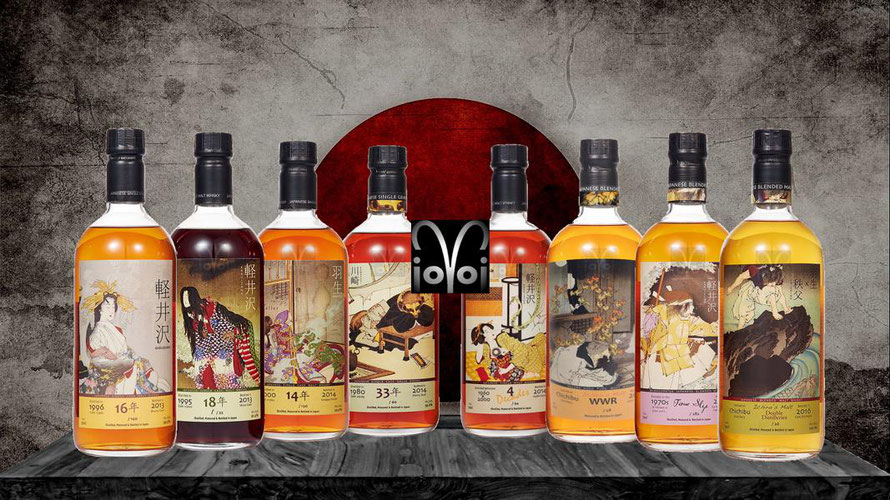 While I am writing these lines, Ghost No.14 has just been released. But since the artist Yoshitoshi has created 36 of these Ghost labels in an elaborate, technically challenging woodblock print, we can still look forward to some exciting whisky releases.
Während ich diese Zeilen schreibe ist gerade die Ghost No.14 erschienen. Da der Künstler Yoshitoshi aber 36 dieser Ghost Labels im aufwendigen, technisch ansruchsvollen Holzschnitt gefertigt hat, können wir uns ja noch auf einige spannende Whisky Veröffentlichungen  erfreuen.
And the initiator of the Ghost series, Mr. van Eycken is no stranger to the whisky scene, he is/was chief editor of the Japanese whisky website Nonjatta, writes for the online whisky magazine, but with his book Whisky Rising (2017) he has set a milestone in the newer whisky scene.
Japanese whisky development, which probably everyone who is interested in Japanese whisky
as a reference book.
Und der Initiator der Ghost Serie, Mr. van Eycken ist in der Whiskyszene auch kein  Unbekannter, Er ist/war Chef-Redakteur bei der japanischen Whisky Website Nonjatta, schreibt für das Online - Whisky Magazine , aber spätestens mit seinem Buch Whisky Rising (2017) hat er einen Meilenstein der neueren
japanischen Whiskyentwicklung dokumentiert, die wohl jeder, der sich japanischen Whisky interessiert
als Nachschlagewerk nutzt.
He himself describes in his book that there are some aspects that make this series special. First of all it would show the fast side of Japanese whisky history.  But at the same time it would also show the versatility that in one way or another makes all these releases something unusual or unique.
Er selbst beschreibt in seinem Buch das es einige Aspekte gibt, die diese Serie zu etwas Besonderem macht. Zunächst einmal würde  sie die schnelle Seite der japanischen Whisky-Geschichte zeigen.  Gleichzeitig aber auch die Vielseitigkeit die auf die eine oder andere Weise alle diese Veröffentlichungen zu etwas ungewöhnlichen  oder einzigartigen machen.  
---
Ghost Series No.6
Ichiro's Malt 4 WWR (Wine Wood Reserve) Cask Strength
---
Distillery: Ichiro's Malt / Chichibu

Categorie: Vatted Malt

Series: The Ghost Series No.6

Vintage: ****

Bottled: 2015
Bottled for: Nonjatta

Cask-Typ: Wine Wood Reserve (Solera)

Cask-Nummer: #****

Number of Bottles: 28 Bottles
Uncolored: Yes
Non-Chillfiltered : Yes
Strength: 59,5% Vol.
Size: 700 ml
Origin: Japan
The sixth was a cask-strength bottling of a solera whisky made by Ichiro Akuto.

Die sechste war eine fassstarke Abfüllung eines Solera-Whisky von Ichiro Akuto.
Instead of tasting notes this Ichiro's Malt Wine Wood Reseve, the small interesting story of the emergence of the extraordinary marriage:
Two questions have to be answered at Ghost No. 6 Ichiro's Malt / Chichibu WWR.
Mr. Van Eycken and his comrades-in-arms were fans of the Ichiro's Wine Wood Reserve series and asked Mr. Akuto to produce a cask strength Wine Wood Reserve for the Ghost No. 6 with a production run of several hundred bottles so that many whisky fans could enjoy this malt.
Mr. Akuto agreed, but said that since it is a Solera whisky, he would need a few more months in OVUM (Latin: the egg) to develop properly.
Unfortunately, the long wait was not rewarded, because Mr. Van Eycken received the news that the OVUM started to break and only about 20 litres of the precious malt were left.
And so it happened that for the third time it became a bottling that was less than 30 bottles.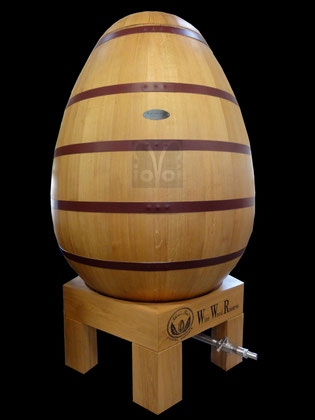 The OVUM Cask (Latin: The Egg)
by french cooper Taransaud
Anstelle von nicht vorhandenen Verkostungsnotizen als Ersatz die interessante Geschichte der verschollenen Ghost No.6 Ichiro's Malt WWR.
 Zwei Fragen sind bei der Ghost No. 6 Ichiro's Malt / Chichibu WWR zu klären.
Warum gilt diese Abfüllung als mehr oder weniger verschollen und wieso kam es wieder zu einer so niedrigen Auflage wie bei No.2 & No.4.
Mr. Van Eycken und Mitstreiter waren Fans der der Ichiro Serie Wine Wood Reserve und baten Mr. Akuto ob er eine Wine Wood Reserve Abfüllung in Fassstärke für die Ghost No. 6 mit einer Auflage von mehreren hundert Flaschen zu produzieren damit sehr viele Whisky Fans in den Genuss kommen diesen Malt auch zu geniessen.
Mr. Akuto stimmte zu, meinte aber, da es sich um einen Solera Whisky handelt brauche er noch einige Monate im OVUM (lateinisch: das Ei) um sich richtig zu entfalten.
Leider wurden das lange warten nicht belohnt, denn es erreichte Mr. Van Eycken die Nachricht, dass das OVUM anfing zu brechen und nur ca. 20 Liter des kostbaren Malt übrig geblieben sind.
Und so kam es dazu das es zum dritten mal wieder eine Abfüllung wurde die unter 30 Flaschen lag.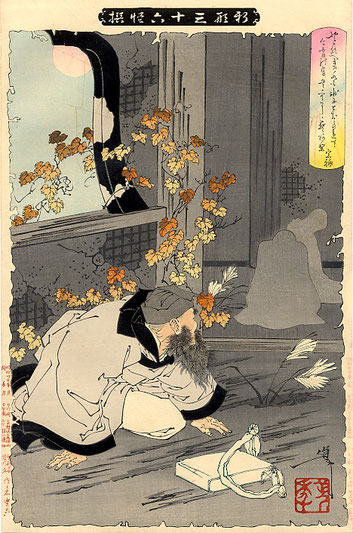 Now the question arose again, how to make it possible that despite the low circulation, more than 28 people can enjoy this noble drop?
The experience with the two previous low circulation publications was that they have more or less disappeared into the showcases of a few collectors who worship them every day, as they are only an investment and not what they were originally intended for, to be enjoyed.
And so the idea was born to hand over this bottling completely to whisky bars in Japan personally one bottle at a time and of course to open it in front of the bottle and enjoy a dram of it to make sure that the bottles are opened.
How it came about that one or the other closed bottle managed to survive is beyond my knowledge.
For my part, I would have loved to try this barrel strength malt.
Jetzt stellte sich abermals die Frage, wie schafft man es, dass trotz der niedrigen Auflage, mehr als 28 Personen diesen edlen Tropfen zu geniessen geben kann?
Die Erfahrungen mit den zwei vorigen Veröffentlichungen mit niedriger Auflage war, dass sie mehr oder weniger in Vitrinen von wenigen Sammlern verschwunden sind, die sie jeden Tag anbeten, da sie nur als Wertanlage dienen und nicht wofür sie ursprünglich gedacht waren, zum Genuss.
Und so wurde die Idee geboren, diese Abfüllung komplett an Whisky Bars in Japan persönlich jeweils eine Flasche abzugeben und natürlich vor die Flasche zu öffnen und ein Dram daraus zu geniessen, um zu gewährleisten das die Flaschen auch geöffnet werden.
Wie es dazu kam, dass es trotzdem die eine oder andere geschlossene Flasche geschafft hat zu überleben, hat entzieht sich meiner Kenntnis.
Ich für meinen Teil hätte gerne diesen Fassstärke Malt gerne probiert.