---
Hibiki Range
Hibiki 12 Years
---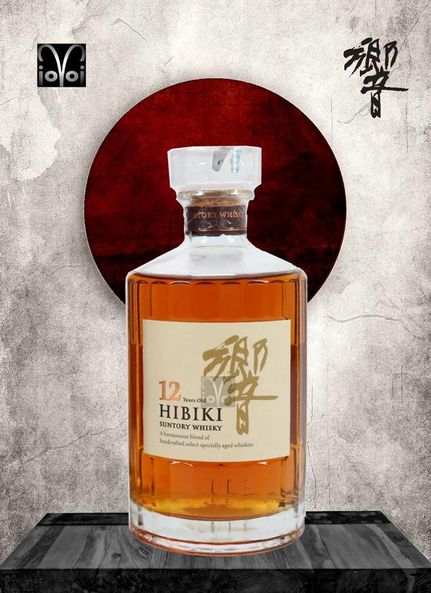 Distillery: Suntory
Categorie: Blended Japanese Whisky

Series: 12 Years

Vintage:

Bottled:

Bottled for: Distillery Bottling

Cask Number: #
Cask-Typ: Plum Liqueur Barrels
Number of Bottles:

Uncolored: Yes
Non-Chillfiltered : Yes
Strength: 43,0% Vol.
Size: 700 ml

Orgin: Japan
Suntory's excellent Hibiki 12 years, the starting point of the Hibiki range. It's a fantastic example of a Japanese style blended whisky: sweet and perfumed. Along with grain from Chita and malt from Yamazaki they use some whisky matured in plum wine casks in the mix.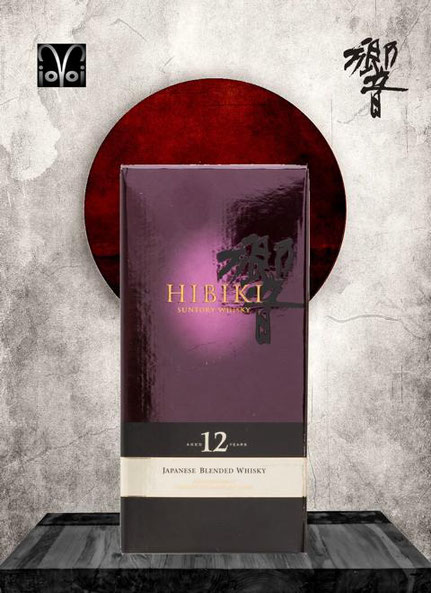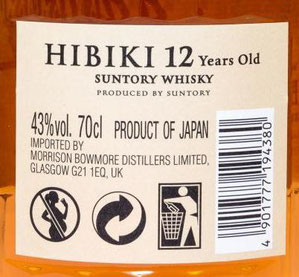 Suntorys ausgezeichneter Hibiki 12 Jahre, der Ausgangspunkt der Hibiki-Reihe. Er ist ein fantastisches Beispiel für einen Blended Whisky im japanischen Stil: süß und parfümiert. Zusammen mit Getreide aus Chita und Malz aus Yamazaki verwenden sie etwas in Pflaumenweinfässern gereiften Whisky in der Mischung.

Tasting Notes
 Nose:
Very fruity, with ripe oranges, apple pie, marmalade and plums (would I have still got those plums if I didn't know about the plum liqueur maturation? I'd like to hope so). Fresh honeysuckle and nougat aromas, sugared almonds, sponge cake, icing sugar. Expressive and exciting.
Palate:
Smooth as a snooker ball, with delicious fresh grain, oak tannins and delicately sherried malt. Some clove, pepper and mixed peel as the sherry comes forward. The citrus is here as well, if slightly more tart like lemon or grapefruit.
Finish:
Spices, apple peel and the last remnants of the finely-tuned grain. Nothing dominates, everything in place - the integration and balance are quite remarkable. The spices seem to build in intensity at the finale.
Comments:
Slips down easier than a greased eel in an oilslick. This is tremendous. A hugely impressive feat of blending that proves, if there were any remaining doubt, that Japanese whisky can equal or beat anything produced in Scotland at this moment in time.
Verkostungsnotiz
Nase:
Sehr fruchtig, mit reifen Orangen, Apfelkuchen, Marmelade und Pflaumen . Frische Geißblatt- und Nougat-Aromen, gezuckerte Mandeln, Biskuit, Puderzucker. Ausdrucksstark und spannend.
Gaumen:
Geschmeidig wie eine Snookerkugel, mit köstlichem frischem Getreide, Eichen-Tanninen und delikatem Sherry-Malz. Etwas Nelke, Pfeffer und gemischte Schale, wenn der Sherry nach vorne kommt. Die Zitrusfrüchte sind auch da, wenn auch etwas herber wie Zitrone oder Grapefruit.
Abgang:
Gewürze, Apfelschalen und die letzten Reste des fein abgestimmten Getreides. Nichts dominiert, alles ist an seinem Platz - die Integration und Balance ist bemerkenswert. Die Gewürze scheinen im Finale an Intensität zuzunehmen.
Kommentar:
Gleitet leichter hinunter als ein eingefetteter Aal in einer Ölspur. Dieser Malt ist großartig. Eine enorm beeindruckende Leistung des Blendings, die beweist, dass japanischer Whisky mit allem, was in Schottland produziert wird, mithalten oder es sogar übertreffen kann, falls es noch irgendwelche Zweifel geben sollte.