---
Chichibu / Ichiro's Malt - Vintage 2014
Chichibu Single Malt Cask #3472
---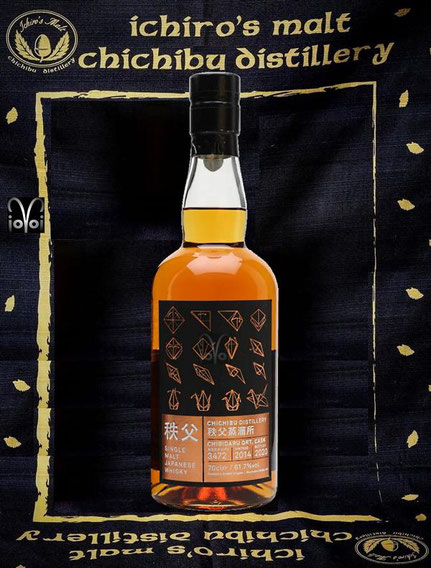 Distillery: Chichibu
Categorie: Japanese Single Malt Cask

Series: Chibidaru

Vintage: 2014
Bottled: 2020
Bottled for: Spirits Shop Selection

Cask Number: #3889

Cask-Typ: Chibidaru Quarter Cask

Number of Bottles: 121 Bottles
Uncolored: Yes
Non-Chillfiltered : Yes
Strength: 61,7% Vol.
Size: 700 ml

Orgin: Japan
Tastingnotes
Nose
Apple and pear pie – softly spiced with cinnamon and nutmeg – and custard with a spoon of vanilla cream. The apples are sweet, the pear ripe and the spice gentle, slowly turning into more herbal and incense-like notes: fragrant, spicy and sweet. Fruity caramel develops, draped over everything.
Palate
Intense and sweet, with the fruit from the nose joined by ripe mango and banana before being compressed into a rich flavour bomb. Polished oak, spiced sponge and dark caramel are wrapped around the outside, balancing the sweetness and fruity intensity. Custard, incense and browning leaves develop along with a touch of resinous oak.
Finish
Very, very long with spiced toffee and sponge cake slowly fading away to leave fruity apples and pears.
Comment
So much fruit – mostly apples and pears, with some tropical touches – that pushes on from the nose through the palate and into the finish. The woody spice of the chibidaru cask has not become dominant and amplifies the fruit. A cracking dram.
Tastingnotes by: Billy Abbott, The Whisky Exchange
Tastingnotes
Nase
Apfel- und Birnenkuchen - sanft gewürzt mit Zimt und Muskatnuss - und Pudding mit einem Löffel Vanillecreme. Die Äpfel sind süß, die Birne reif und die Würze sanft, geht langsam in mehr kräuter- und weihrauchartige Noten über: duftend, würzig und süß. Fruchtiges Karamell entwickelt sich, über alles drapiert.
Gaumen
Intensiv und süß, mit der Frucht aus der Nase, zu der sich reife Mango und Banane gesellen, bevor sie zu einer reichen Geschmacksbombe komprimiert werden. Polierte Eiche, gewürzter Biskuit und dunkles Karamell umhüllen alles und balancieren die Süße und fruchtige Intensität aus. Vanille, Weihrauch und bräunende Blätter entwickeln sich zusammen mit einem Hauch von harziger Eiche.

Abgang
Sehr, sehr lang mit gewürztem Toffee und Biskuit, das langsam verblasst und fruchtige Äpfel und Birnen zurücklässt.
Kommentar
So viel Frucht - hauptsächlich Äpfel und Birnen, mit einigen tropischen Noten - die sich von der Nase über den Gaumen bis ins Finish fortsetzt. Die holzige Würze des Chibidaru-Fasses ist nicht dominant geworden und verstärkt die Frucht. Ein klasse Dram.