---
Chichibu Taboo Series Number Two - "Hear No Evil" is a bottling that was allowed to mature in a First Fill Bourbon Barrel for 8 years before being bottled for The Whisky Excange in 2022
---
Chichibu Taboo Serie Nummer zwei - "Nichts Hören" ist eine Erstbefüllung in einem Bourbon Fass die 8 Jahre reifen durfte bevor sie 2022 für The Whisky Excange abgefüllt wurde
---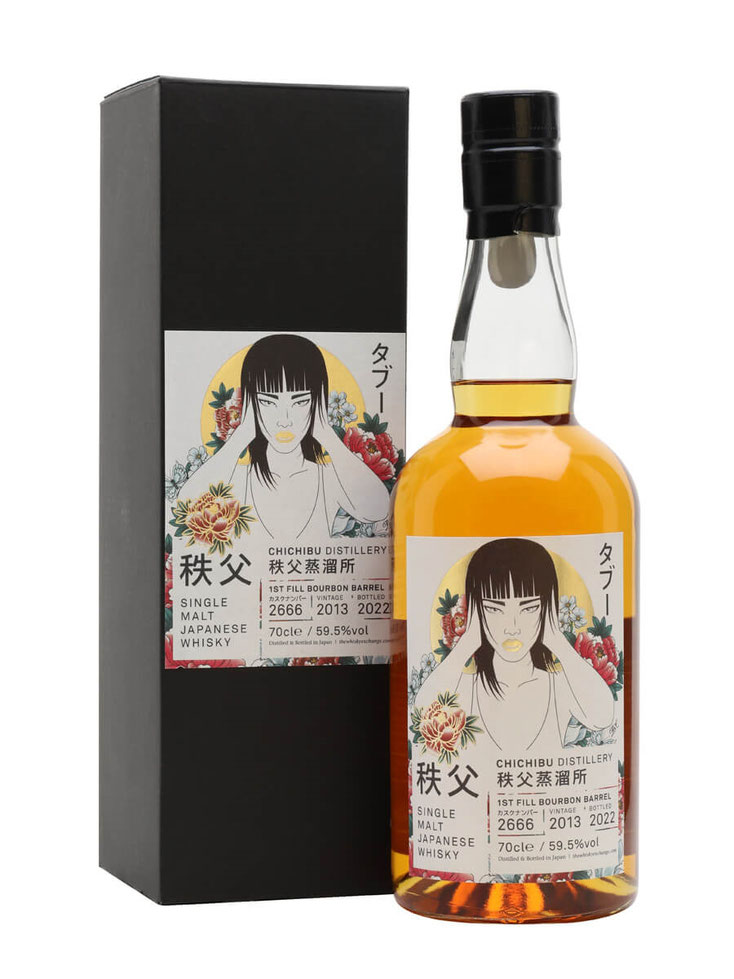 ---
Distillery: Chichibu
Categorie: Single Cask
Series: Ichiro's Malt/Chichibu
Age: 8 Years Old
Vintage: 2013
Bottled: 2022
Bottled for: The Whisky Exchange
Cask-Nummer: #2666
Cask-Typ: First Fill Bourbon Barrel
Number of Bottles: 202 Bottles
Uncolored: Yes
Non-Chillfiltered : Yes
Strength: 59,5% Vol.
Size: 700 ml
Herkunft: Japan
---
Tasting Notes by the whisky exchange
Nose: Orange blossom and fruity honey with orange barley sugar and expressed orange peels. Singed pine needles, pine sap and incense smoke are joined by spiced sponge cake, rye crackers and grape jam.
The smokiness develops, creating an aromatic contrast that ties the other aromas together.
Palate: Big orchard fruit kicks things off, with apples and oranges joined by the toffee, spiced fruit cake, hints of smacked mint and dark chocolate.
The incense from the nose has become aromatic wood smoke, with crusty, freshly baked schwarzbrot and cherry jam developing alongside a touch of fruity jelly.
Finish: The fruit jelly slowly fades to leave polished oak, chocolate, toasted rye bread and lingering hints of incense.
Comment: While the description we were given of this says 'heavily peated', either the distillation process or time in the cask has tamed the smoke and integrated it well with the rich, grain-and-fruit character of the whisky. An exercise in balance and restraint.
---
Tasting Notes by the whisky exchange
Nase: Orangenblüten und fruchtiger Honig mit orangefarbenem Gerstenzucker und ausgepressten Orangenschalen. Zu gesengten Kiefernnadeln, Kiefernsaft und Weihrauch gesellen sich gewürzter Biskuit, Roggencracker und Traubenmarmelade.
Die Rauchigkeit entwickelt sich und bildet einen aromatischen Kontrast, der die anderen Aromen miteinander verbindet.
Gaumen: Ein großer Obstgarten mit Äpfeln und Orangen, dazu Toffee, gewürzter Obstkuchen, ein Hauch von Minze und dunkler Schokolade bilden den Auftakt.
Der Weihrauch aus der Nase hat sich in aromatischen Holzrauch verwandelt, während sich knuspriges, frisch gebackenes Schwarzbrot und Kirschmarmelade neben einem Hauch von Fruchtgelee entwickeln.
Abgang: Die Fruchtgelee verblasst langsam und hinterlässt polierte Eiche, Schokolade, geröstetes Roggenbrot und einen Hauch von Weihrauch im Abgang.
Kommentar: In der Beschreibung, die uns gegeben wurde, steht zwar "stark getorft", aber entweder der Destillationsprozess oder die Zeit im Fass haben den Rauch gezähmt und ihn gut mit dem reichen Getreide- und Fruchtcharakter des Whiskys verbunden. Eine Übung in Ausgewogenheit und Zurückhaltung.
---